Wedding Receptions
Wedding receptions at Old Luxters Barn can seat from 40 up to 114 guests
We expect you have lots of exciting, creative and entertaining ideas for your wedding reception, all of which you can discuss with your personal wedding planner throughout your journey. We would love to hear your thoughts and work with you to make your wedding day not only positively memorable but also logistically viable.
The barn itself, in its glorious Henley-on-Thames location, is stunning on its own, with lots of character and charm! We do encourage your creative ideas, and will help you to develop your own personal touches that your guests will remember!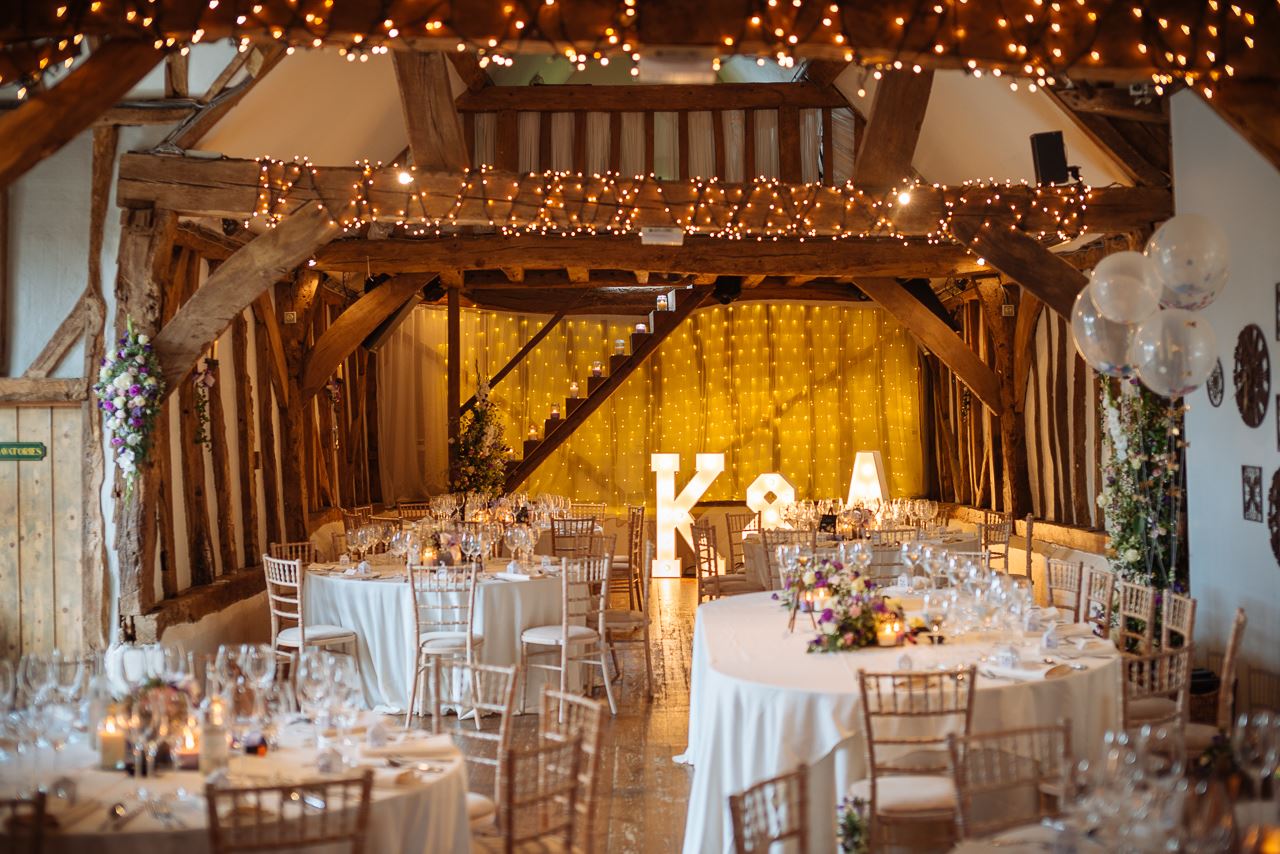 `
Drinks reception & canapés
After your ceremony you will have a congratulatory drinks reception in the courtyard / marquee area. Accompanied by (if you wish) some mouth-watering canapés. This is a lovely time to have photographs. If you've booked Old Luxters Farmhouse for your wedding day you'll be able to have your pictures in the breath-taking vineyard.
The wedding breakfast
After your drinks reception you will be introduced into the main barn itself, which would have already been pre-set by our team and their flawless eye for detail. Whether you would like to go straight into speeches, or your wedding breakfast is up to you. Old Luxters Barn's in-house culinary team have developed a range of deliciously different menu options to suit all tastes and will happily accommodate any theme or request you may have.
Cake cutting, tea & coffee in the marquee
Following your wedding breakfast, guests are led out to the marquee where the cake cutting ceremony can commence along with a tea and coffee service. This allows time for the barn to be transformed into a dancing area ready for the evening. If you are having evening guests this is when they would arrive. As your current guests are up and able to welcome them.
Evening reception & entertainment in the Barn
Now the party and music can really get underway, with our well stocked bar and options for evening food at your disposal. Our packages do include a DJ for 3 hours, you might want to complement this with a live band! The packages are until 12am (11.30am bar & music close + 1/2 an hour drink up), but we do have a 2am licence if you would like to use it!
Let us help you create the wedding of your dreams!