Frequently asked questions
When can we come and set up the barn?
The barn is opened at 8am on the day of your wedding, and will be set up by our team to the very high standard that you expect. We would have discussed with you prior to the day where everything is going, on what beam, at what angle etc. You would also label everything so there is no misunderstanding. This will allow you to relax and not worry about getting on a ladder to put the bunting up. Plus we love doing it!
Deliveries can happen earlier in the week if needed, these slots will be confirmed for you at your interim date (4 weeks before) based on what else is going on. The wedding cake & fresh flowers are to be delivered on the morning of the wedding.
When do we need to pick up our decorations?
At the end of your wedding our team will take down all your decorations and pop them back into their boxes. These will be taken over to the farmhouse for you. Check out the following day is 11am
When do we have to have everything finalised for the big day?
Everything in your planning document needs to be completed by your interim date. This is 4 weeks before your wedding. All questions should have been asked before this date. All meal options, seating plan etc. is to be finalised by this date. No amendments can be made after this date
You can bring candles to decorate the barn - they must be housed in a container that stands higher than their flame, i.e.a jam jar, Moroccan lamp etc. We also supply candles in sconces on the walls of the barn which look really pretty. Our staff will make sure all candles are lit before guest arrival.
What do guests do about parking?
We have a large car park opposite the barn where guests can leave their cars overnight. Roughly 40-50 car parking spots, it's always advisable to allocate an usher to make sure your guests park appropriately. Guests should not leave valuables in their cars.
Do we have to book the on-site farmhouse?
The farmhouse is compulsory to book if you're having your wedding at Old Luxters Barn
What's the check in and check out time for the farmhouse?
Check in is 2.15pm and check out is 11.00am the following day. Bags can be dropped off earlier if required.
Can we book the night before in the farmhouse?
When you make your wedding booking we will reserve the night of your wedding for the farmhouse. At this point you can request for another night. We wouldn't be able to confirm this until 4-5 months from your wedding date, and it would depend on other events.
This does all depend on your timings. If the farmhouse is not available the night before, and you are not local enough to come already dolled up, you could look at staying at Danesfield the night before (10 minutes' drive). They have a gorgeous spa, and treatment rooms where you and your girls can pamper the night before! Or you can see other local accommodation
Has the barn got a noise limiter?
As we don't have any immediate neighbours there isn't a specific noise limit.
Do you have baby changing facilities?
Yes we do, located in the disabled toilets in the courtyard.
Can buses get up your hill?
Yes, we've had lots of different vintage buses, coaches and lorries get to us. The drivers just like to know that they can turn around, which they can do in the car park opposite. Unfortunately the bus wont be able to come into the courtyard itself due to low hanging cables.
What does the food tasting involve?
Food tastings are available to book Tuesday – Thursday at 12pm, generally January - April. Once the season starts we're unable to arrange tastings as we will be busy with weddings. The tastings need to be booked at least 4 weeks in advance. For pricing see your wedding summary. You will try a selection of 6-8 canapés, 2 x starters, 2 x mains & 2 x desserts as well as complemented with wines. The tasting will usually last for between 1 hr 30 minutes and 2 hours. Tastings are optional, but good fun!
Fireworks are not permitted due to the local wildlife.
Can I give my guests a choice of their meal?
This is possible, we would require another chef. For pricing see your wedding summary.
How late can we keep dancing until?
Our packages are until 12am (bar & music stop at 11.30pm + ½ drink up). We can arrange an extension until 2am should you need. For pricing see your wedding summary.
What are the opening hours for the on-site farm shop?
Do remember we are in the middle of nowhere and it's not a busy shop. It's nice for your guests to wander in there during the drinks reception. The winery do tour and tasting events but these are not on event days.
Will ours be the only wedding on the day?
What staff are at the barn on my wedding day?
You have a wedding planner who opens the barn for you at 8am, to make sure all your deliveries are coming in and being set up beautifully. Your operations manager and his/her waiting team will arrive 3 hours before your final rooms checks.
If you're having a traditional style 2/3 course menu we will provide 1 waiter per 10 guests, + 1 barman. Later on one of the waiting staff will also go on the bar.
Yes, although temperamental - we advise pre downloading any of your playlists before.
Can we bring our own alcohol?
We have a couple of different drinks packages to choose from. Or you can bring your own wine and bubbles with a corkage charge. Old Luxters would then supply waters, soft drinks, beers and the bar. See our drinks section
Can we bring our own caterers?
We have our own in-house catering team that create all the catering on-site. It allows us to monitor the quality and hygiene of the food produced, making sure it's of the highest standard. Our food hygiene rating is 5/5 from the food standards agency. Our front of house also work flawlessly with the catering team. Therefore external caterers are not permitted. However the team are very open to what you would like to offer, from casual to extravagant, just ask your planner.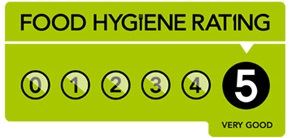 Yes of course, although our pricing do already include our DJ for 3 hours. If you would like to bring your own DJ they must bring all their own equipment. The facility fee will stay the same.
Yes, we can recommend or you can bring your own. Bands will need to bring all their own equipment. They will be required to have full PAT testing on their equipment and have their own public liability insurance. You can find recommended suppliers here
What's the stretch marquee used for?
This is used as a breakout area throughout the day. From the drinks reception to cake cutting and greeting evening guests. If it rains it is your shelter, if it's sunny it's your shade, if it cold it's your warmth. We look very closely at your guests' comfort. Heaters & sides to the stretch marquee are included between October - March. April - September the sides come off to create a more free flowing space into the courtyard for your guests.
What's the temperature in the barn?
The barn itself has heaters and fans, your operations manager on the day will sort accordingly. In summer it's light and airy and in the winter warm and cosy.
Do you have a projector and screen for use during our speeches?
The barn has a full PA system for speeches and music during the ceremony and wedding breakfast. We can rent in screens and projectors should you need or you can rent these.
Where are photographs taken?
You can arrange a time to come up with your photographer before the big day to discuss where you would like your pictures. You have access in the vineyard and gardens for photographs as well as all the grounds by the car park and the beautiful view of the Hambleden valley beyond this.

Can we use confetti, hay bales, and sparklers?
Yes you can, there is a charge for foil/paper confetti, hay bales and sparklers (see your wedding summary). If your confetti is natural petals there is no charge.